Hello and Welcome to the Christian Union!
What's On?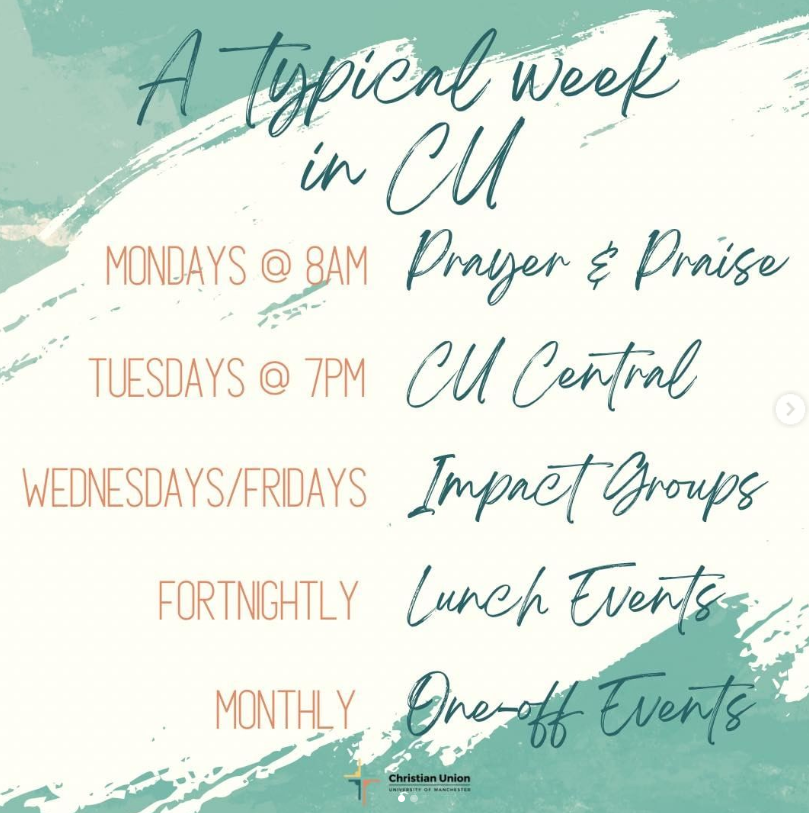 We hold lots of events during the week, for more information on what happens where, check out the 'What's On' menu on this website.
All of our events are completely free and open to all students, Christian or not. You don't need to sign up for any of our meetings and we'd love to meet you!
Word Alive 2023
We can't wait to all get together as CUs from across greater MCR (and the nation) for a great holiday in the run up to Easter 2023 (1st – 6th April). Word Alive will be an amazing time with fantastic bible teaching experiencing the wonder of God speaking to each of us, alongside the fresh air of the sea and time to chill, relax and have fun! Kind of like a weekend away but multiplied! 😀 Whether you are MMU, Salford, UCFB, RNCM, BIMM, Bolton, Futureworks, UoM… this is for you.
We are going together as a group of Christian Unions to enjoy an exciting and inspiring week. It will equip us to thrive in every area of life on campus and beyond. Spend time with old friends and make new ones as we eat, learn, worship, sing, tell stories, pray and unwind together. Be encouraged and spurred on to live for Jesus as we gather together with thousands of other Christians from all walks of life in praise of him. We have even secured an exclusive, exciting accommodation off-site for us to spend even more time together and have FUN! Sign up below
https://forms.gle/FXvxZBE5FwEbE2vy9
Churches
Wanting to try out church in Manchester? We'd love to help you with that so here are three things you can do!
Check out the church guide we've put together.
Have a think and pray about where is right for you. Feel free to drop us a message or chat with us at one of our meetings
Come along on Sunday.
We've put together a team of lovely people who can help welcome you and go with you to church on Sunday – we'd love to put you in touch with them. Sign up here: https://forms.gle/wm2eSP3Aid4gfZB4A
Stay Up to Date
Follow our Instagram and Facebook pages for the most up-to-date information
If you would like to be put in touch with a current member of the CU you can sign up here: https://forms.gle/tqEoH1bF5jWWGPEWA