We can't wait to welcome you to the University of Manchester!
While this year is going to look a little different, don't worry, we're still going to have loads of events on. We'll keep this page updated with our latest events – or follow us on Facebook and Instagram to stay up to date with our latest announcements. ?
What's On
UoMCU Freshers 2020 Facebook Group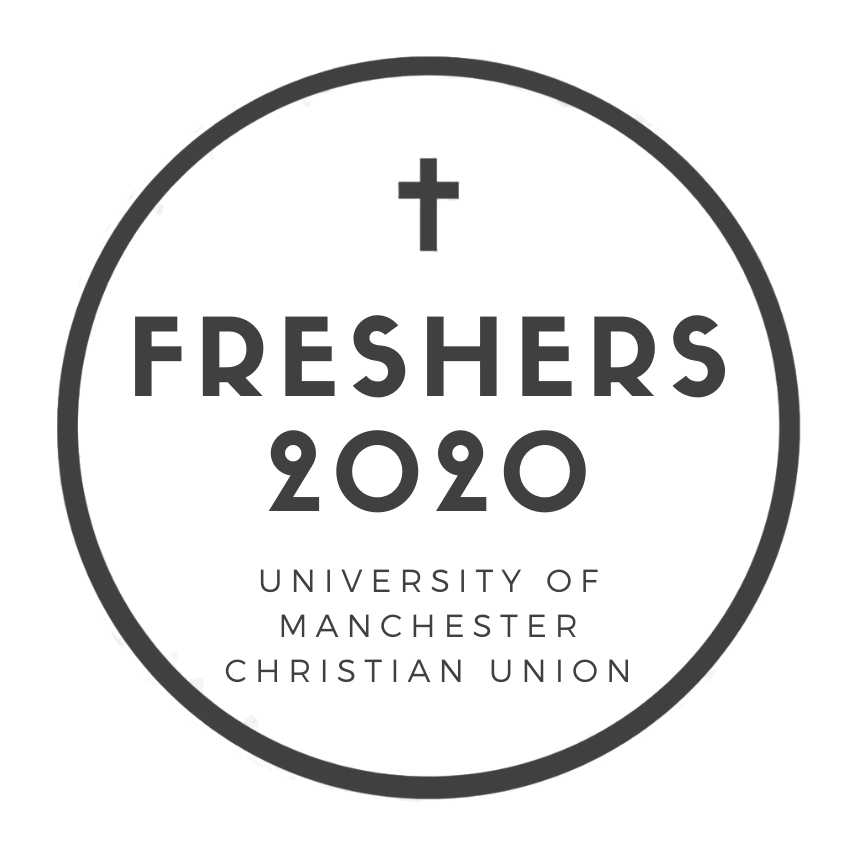 We would love you to join our UoMCU Freshers 2020 Facebook group. It's a chance to get connected with the CU and meet other students starting in September.
---
Previous Events
Freshers Welcome Call | 18.08.20 | 7pm
This will be a great opportunity to meet other students starting in September, hear from some current students about their university experience and get to know more about the Christian Union.
How to get involved:
To access the Zoom meeting you will need a FREE ticket from Eventbrite. You can register on Eventbrite here.
Or you can head to our Facebook event and get a ticket through there ?
---
Forum 2020 | 24th – 28th August
Finally, we would like to invite you to join the rest of the CU at Forum 2020 from 24th-28th August.
What is Forum
Forum is a FREE online event hosted by UCCF, an organisation supporting Christian Unions across the UK.
There'll be talks from some amazing speakers, worship, and fantastic teaching and training in the workshops and tracks.
Why should I come?
For the first time, there's a track specifically for students starting uni in September. The rest of the CU will also be there, so you can meet some new faces and get to know what CU is really about!
To find out more and register, head to uccf.org.uk/forum
---
Welcome Chat | 21.09.20 | 7pm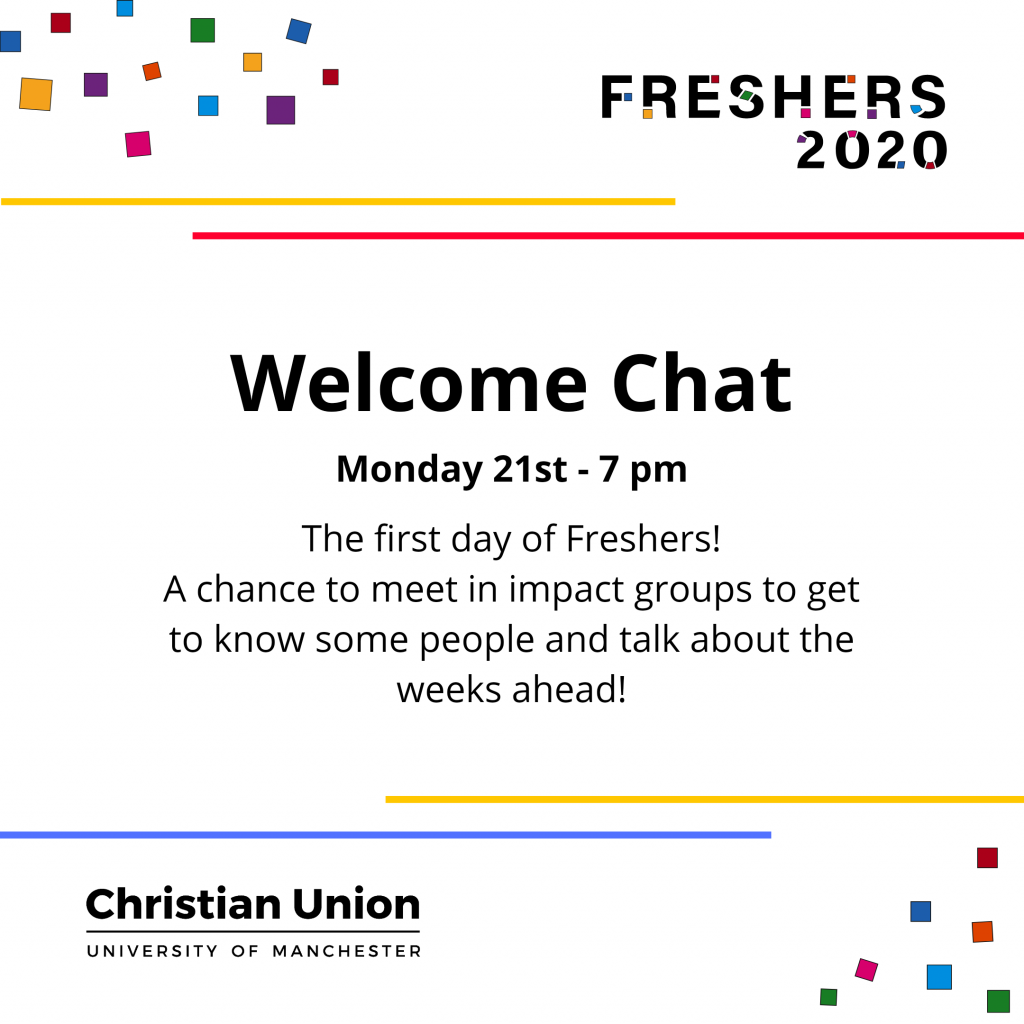 We're kicking off Freshers 2020 with our Impact Groups!
We want to provide opportunities to meet new people and form friendships. This will be a great opportunity to get to know some of the CU community as well as other freshers starting this year.
Impact Groups are a mix of freshers and returning students which meet in small groups, currently over Zoom. If you haven't come along to any of our meetings yet, don't worry, you more than welcome to get involved and join an Impact Group!
---
Church Search | 22.09.20 | 7pm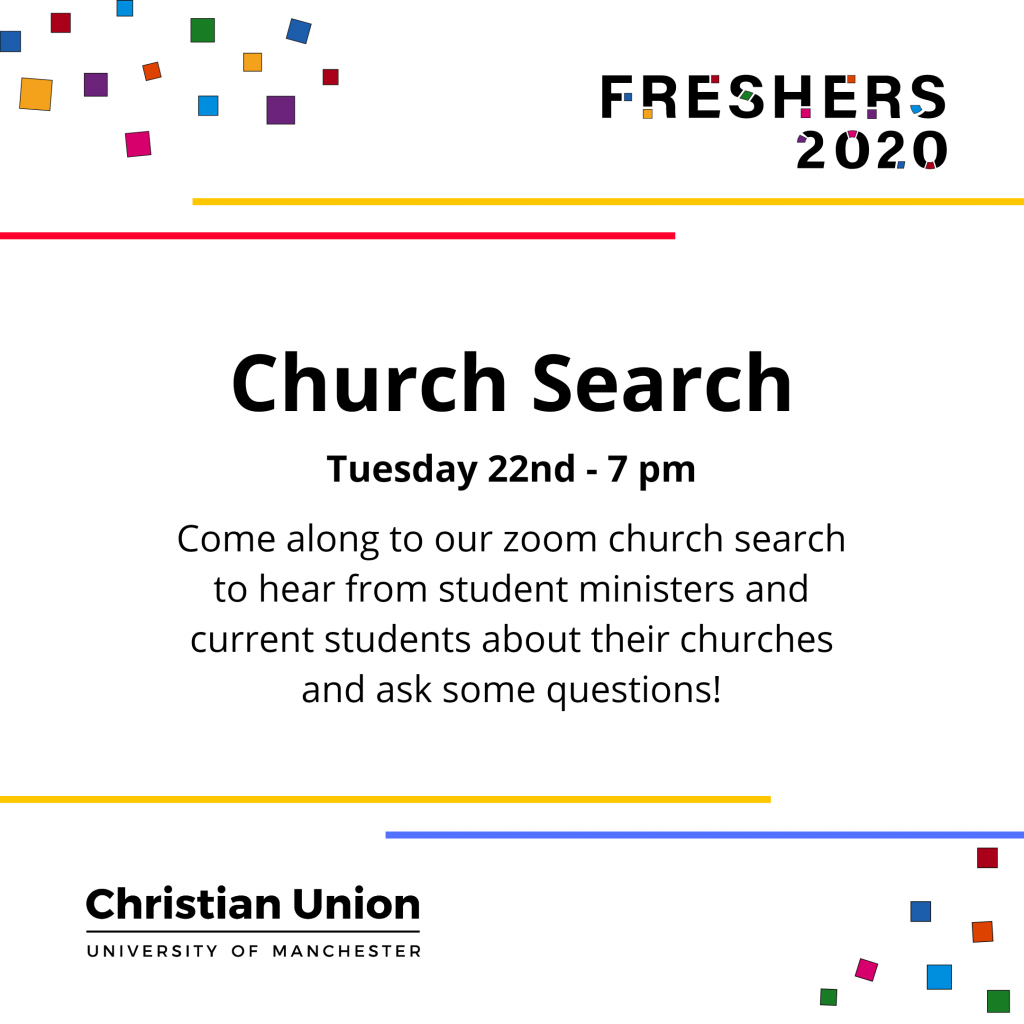 Come along to our zoom church search to hear from student ministers and current students about their churches and ask some questions!
Being part of a church at uni is a fantastic way to grow in your faith, connect with a wider church family, and be supported through your time at university.
There are so many churches across Manchester, and this is a great way to hear from a number of different churches before maybe visiting a few (or tuning into their online services). We really encourage you come along, to find out more and ask some questions. You might even find someone to go along with to a church you want to try out ?
---
Zoom Coffee Morning| 23.09.20 | 9am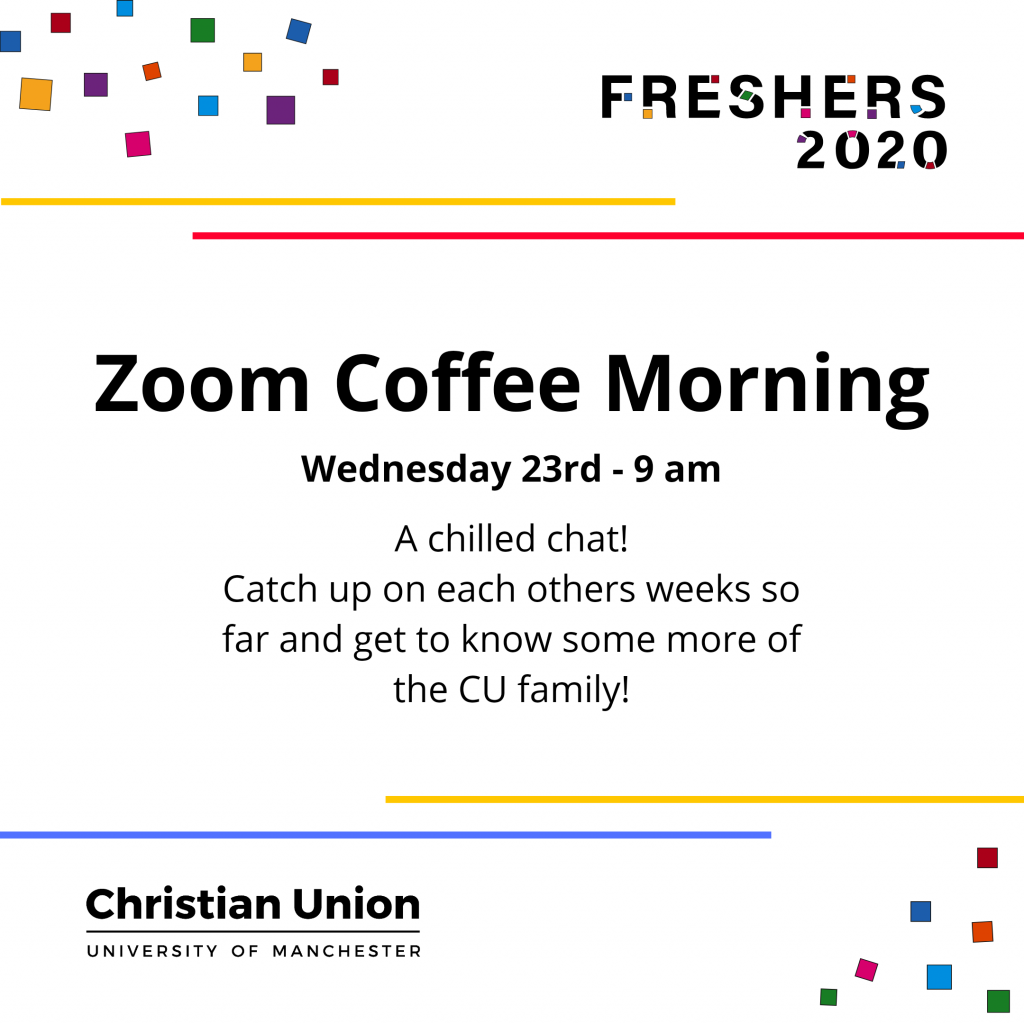 Join us bright and early for a quick catch up!
Feel free to join anytime from 9-10am, for the whole hour, or just 5 minutes, it'd be great to see you there!
---
Faith at Work talk | 23.09.20 | 8pm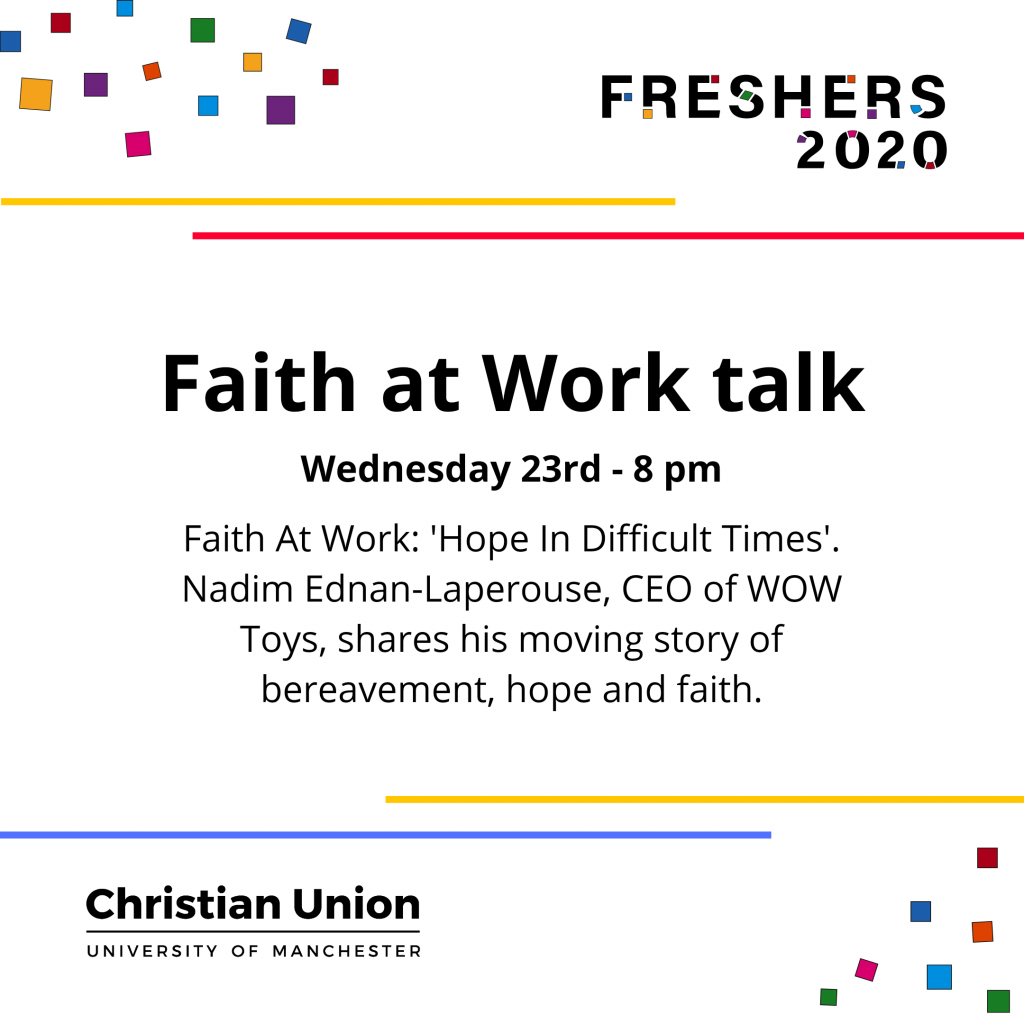 Hosted by Ministry2Business, in partnership with Holy Trinity Platt Church Manchester, and the University of Manchester Christian Union.
Where do you find hope in difficult times?

Nadim Ednan-Laperouse experienced something no parent ever wants to face – the tragic death of a child. On a flight to Nice in July 2016 his 15 year old daughter Natasha died in front of him after an allergic reaction to a Pret A Manger baguette. What followed through the painful grief and desperate heartache was an extraordinary journey of hope.

In June 2019 Nadim and his wife Tanya set up the Natasha Allergy Research Foundation, in order to save other children from fatal food allergies. The charity has successfully worked with the government to change the food labelling laws known as Natasha's Law, which passed through parliament in 2019 making full ingredient labeling mandatory from 2021.

In this unique Faith At Work interview Nadim will share his moving story and how, with his family, they found hope through new faith in the darkest of times. We'll also explore aspects of Nadim's business experience with WOW Toys and the impact his new found Christian faith has on his work and purpose in life.
---
Zoom Coffee Morning| 25.09.20 | 9am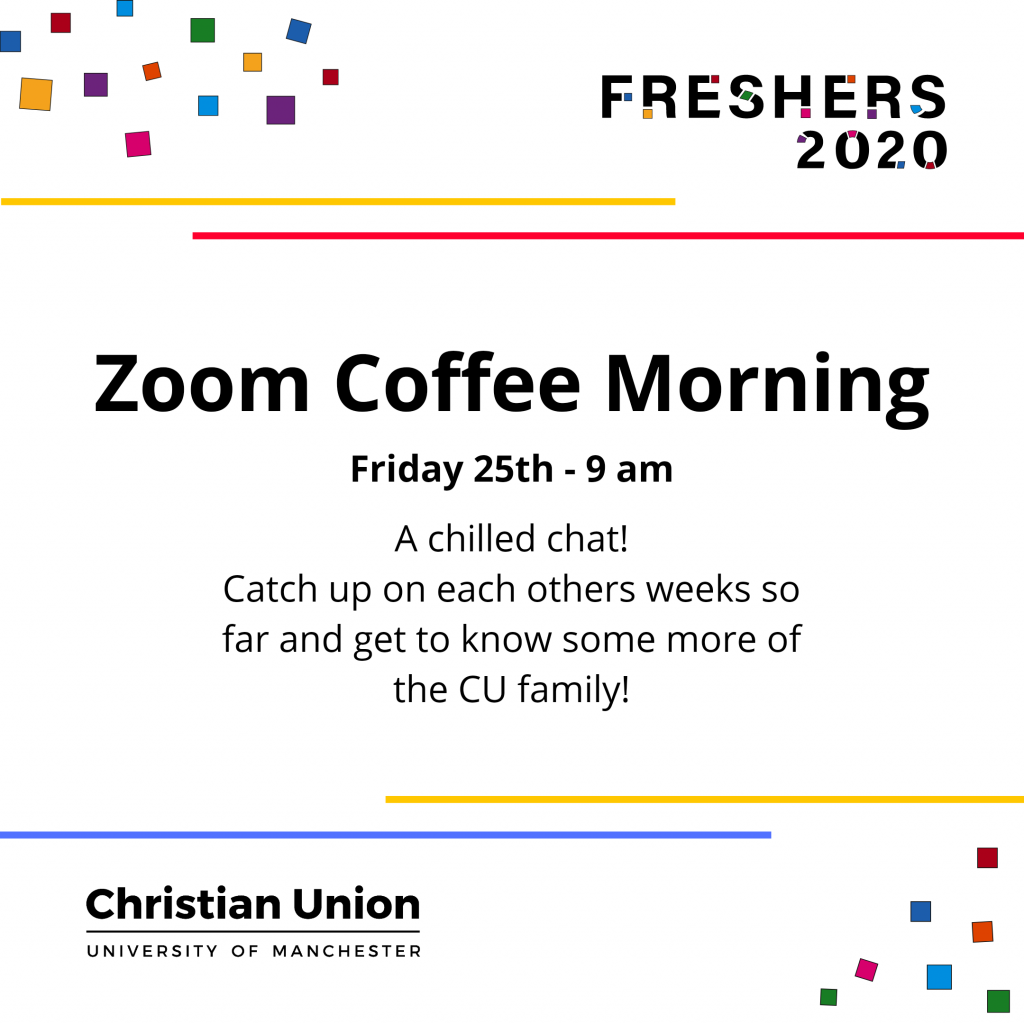 Join us bright and early for a quick catch up!
Feel free to join anytime from 9-10am, for the whole hour, or just 5 minutes, it'd be great to see you there!
---
Scavenger Hunt | 26.09.20 | 2pm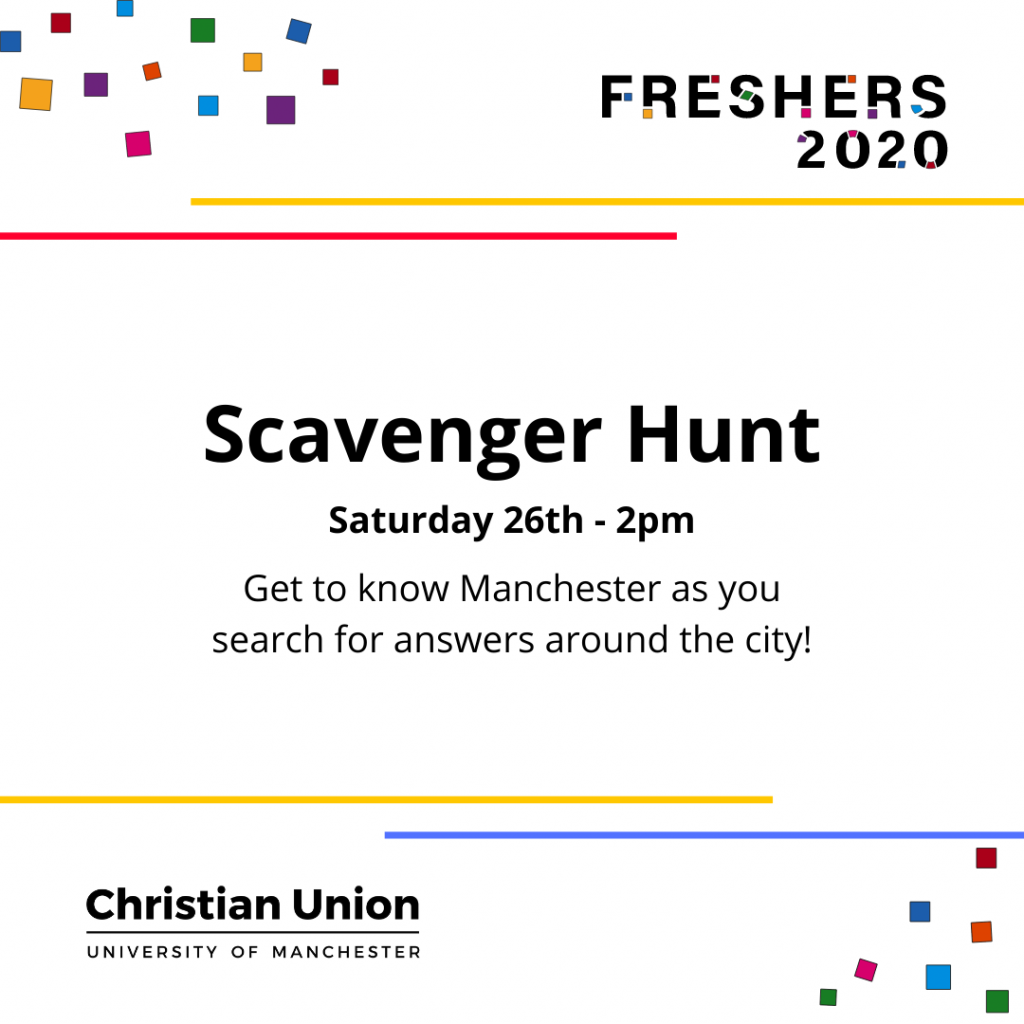 Important information
Please follow all the government guidelines on social distancing. This means, unless you're from the same household, members of each team must be socially distanced throughout the event.

The map will be released on the Facebook event, the online eventbrite page and on our website here.

In the case of restrictions making the event impossible, or bad weather, the event may be held online using Google maps to search for places and items on campus. We will notify you of any changes on the Facebook event or by email if you're signed up on eventbrite.

While not compulsory to participate in the event, we highly recommend you click 'going' on the Facebook event or get a free ticket on eventbrite to stay up to date.
Gather a team, and hunt for CU members scattered across campus!
We're excited to be hosting a socially distanced scavenger hunt on campus. It will be a chance for you to explore campus, and get your bearings before first semester kicks off.
In teams of up to five, you'll be looking for CU members with QR codes for you to scan. To keep track of each team's progress, each QR code will link to a form where you can enter your team name to prove you have reached that location. We will provide a map with the rough locations of each person to find, the rest is up to you!
There will be prizes (to be announced) for the team that finds the most QR codes (or the fastest in the case of a tie). Get creative and show off your photography skills, because there will also be a prize for the best (socially distanced) team selfie. Tag us on your Instagram story (@uom_christianunion) to submit your photos and get involved!
No team? Let us know!
If you don't have a team, contact us on social media, or there's an option when you sign up to request to be put in contact with other students to form a team. If you provide your details for this, we will create a group chat with you all in so that you can coordinate your team from there.
---
Pub Quiz| 28.09.20 | 7pm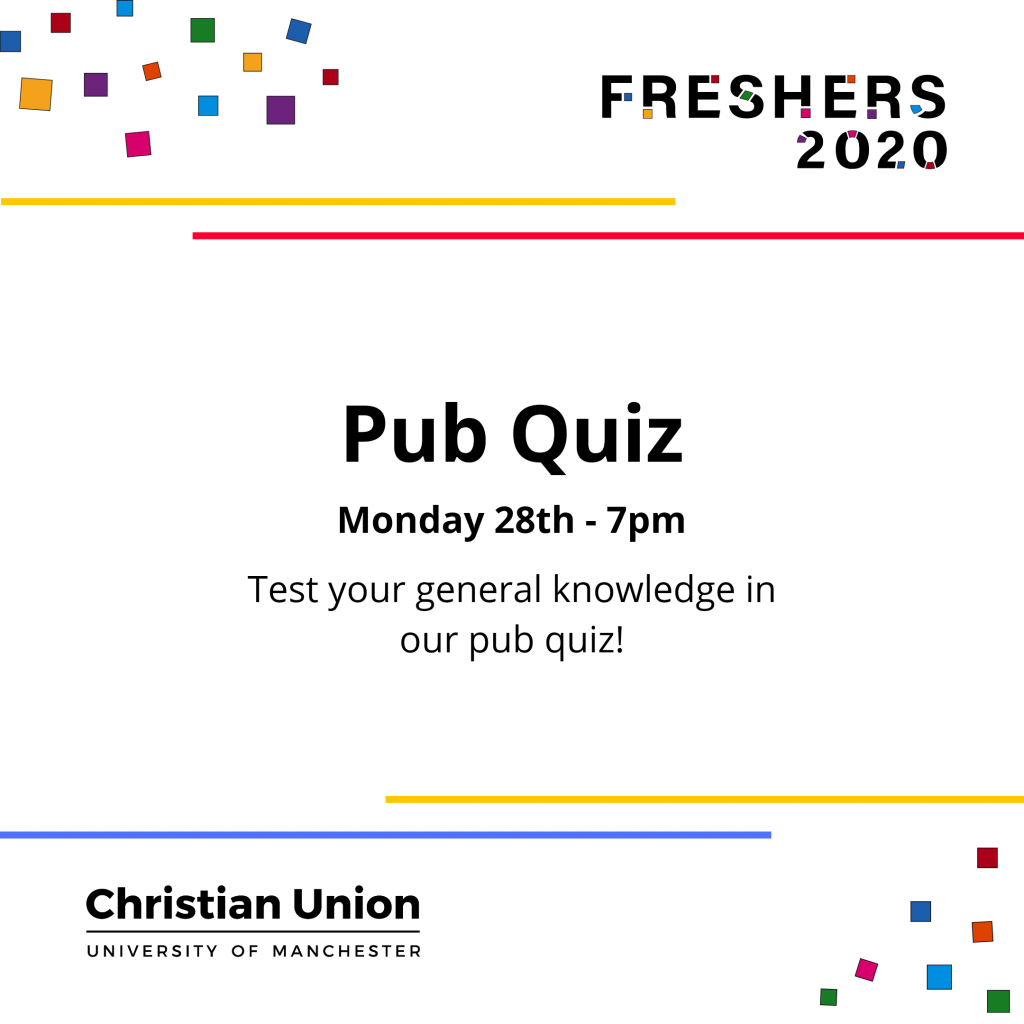 We're kicking off our second week of freshers with a pub quiz on Zoom!
Come along with a team or without, we'll have a blast!
---
Impact Groups| 29.09.20 | 7pm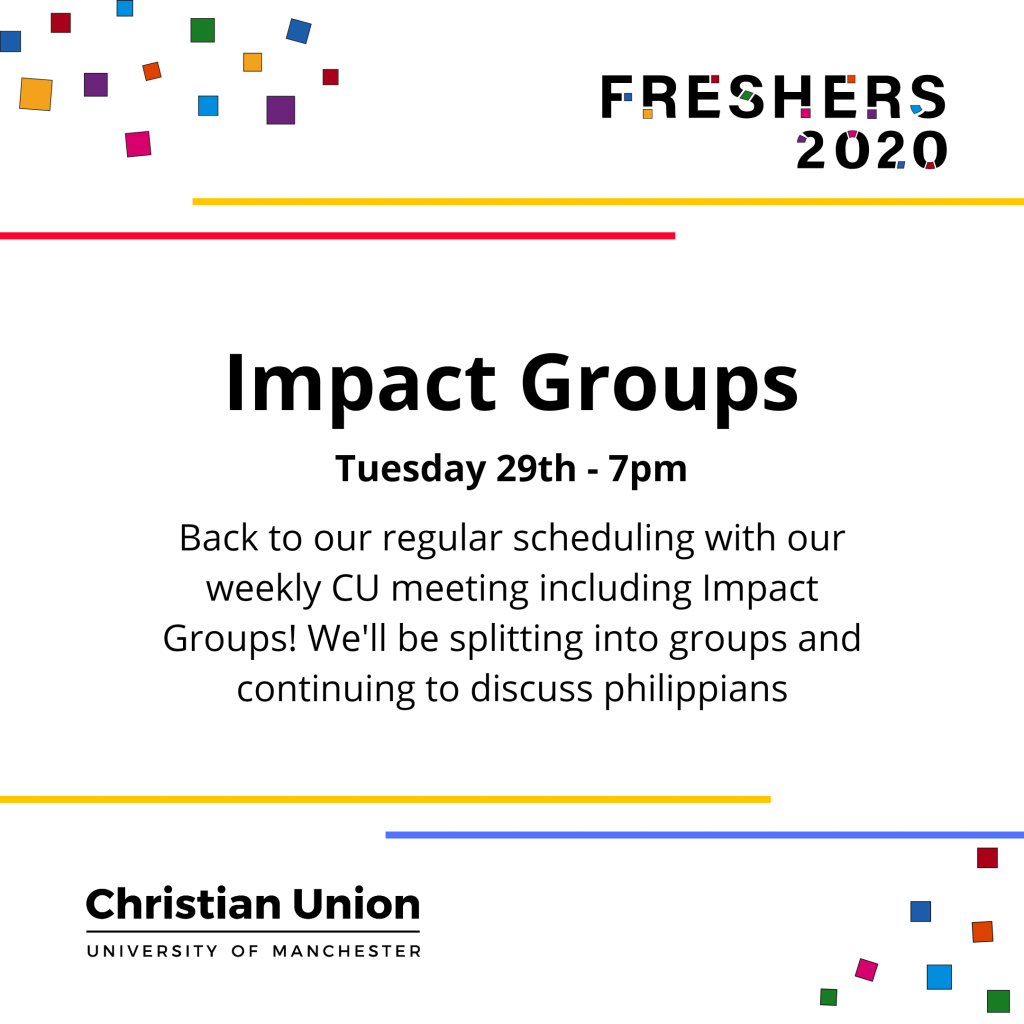 Come along to our regular CU meeting!
Impact Groups are small groups based around the university halls of residence. They're committed to encouraging each other and serving the students around them by providing opportunities to consider Jesus and his message. Impact group leaders can also be a friendly contact during the start of the year to help you get involved in the CU!
Due to Covid-19, Impact Groups are currently our main form of meeting as a CU as their smaller size will make it easier to meet up in person once this becomes possible. They currently meet online on Tuesday evenings, so wherever you are, we'd love you to get involved!
If you haven't already, it would be great if you sign-up for Impact Groups at uomcu.com/impact-signup. This just helps us coordinate who is in each group – and also gives you an option for being contacted by a returning student if you would like that ?
---
Zoom Coffee Morning| 30.09.20 | 9am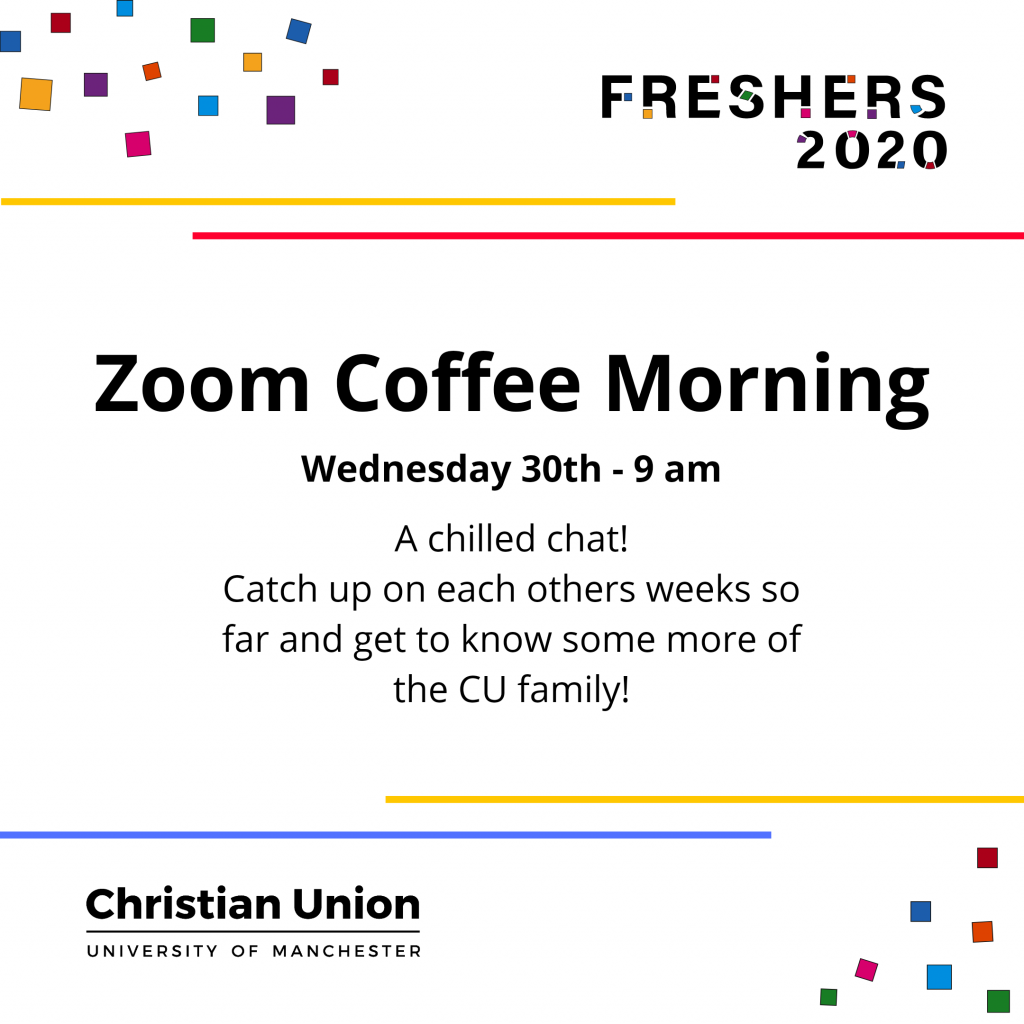 Join us bright and early for a quick catch up!
Feel free to join anytime from 9-10am, for the whole hour, or just 5 minutes, it'd be great to see you there!
---
Games Night| 01.10.20 | 7pm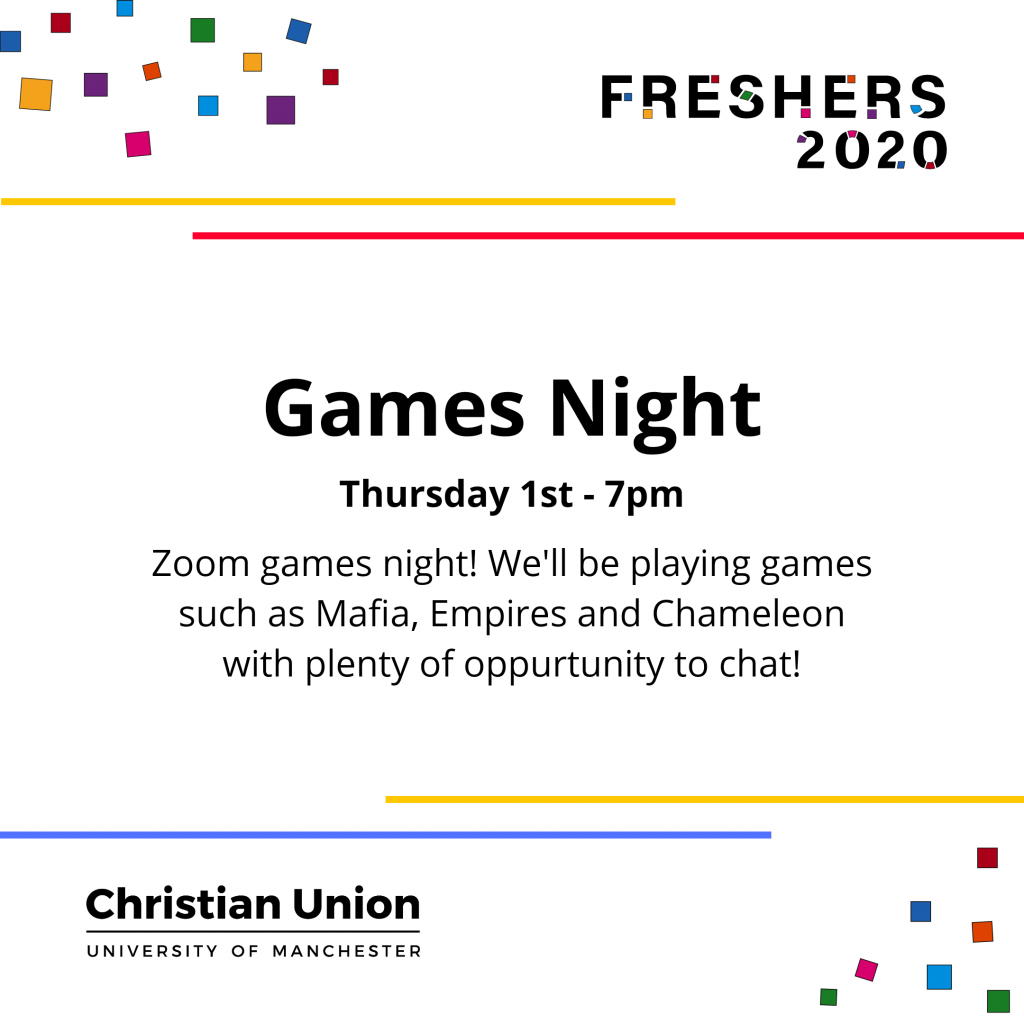 Bring your competitive side and we'll bring the games!
Join us on Zoom for an evening of virtual games and the chance to meet some new people. We'll have hosts running games in different break out rooms, so you can give them all a go ?
---
Virtual Cook Along | 02.10.20 | 7pm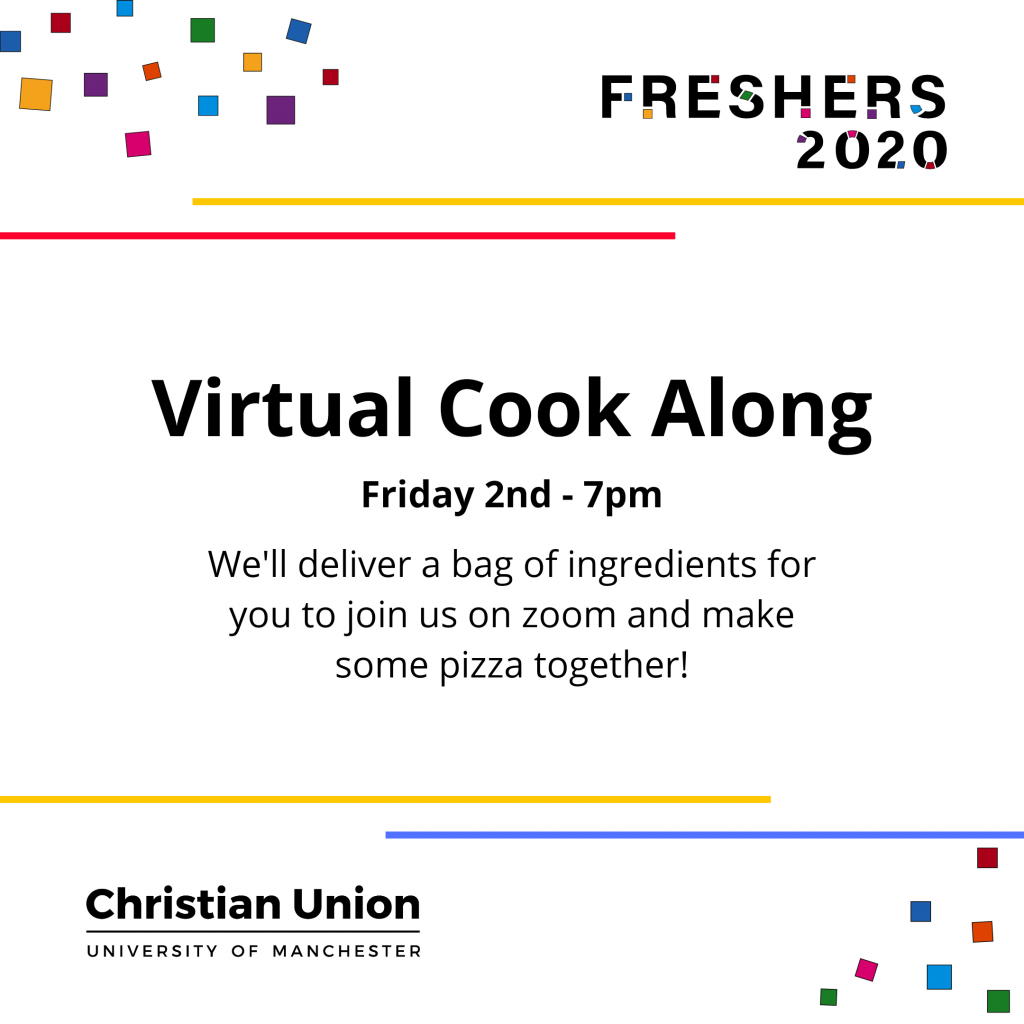 Important Information
To keep everyone safe, we will be packing the food wearing gloves and face masks as well as ensuring frequent hand washing throughout.
Upon registration, we will require your address and a contact phone number to arrange the non-contact delivery of your ingredients on the day of the event. If you are in halls, we will ring you on arrival for you to meet us outside.
It's our last event of Freshers 2020 and whether you've come to uni a whizz in the kitchen, or can barely cook an egg, come along to make some pizza!
Once you've got your ticket, we'll bring round a bag of ingredients with everything you'll need to make your own pizza! We'll send out recipe cards and walk you through all the steps in a Zoom call on Friday. Plus there will be plenty of time to chat along the way ?
If you would rather buy your own ingredients, the recipe card will be released on the Facebook event, the online eventbrite page and on our website here with enough time for you to go shopping.
Tickets to have ingredients delivered are limited and will close at midnight on Wednesday, so be sure to book soon to avoid disappointment!